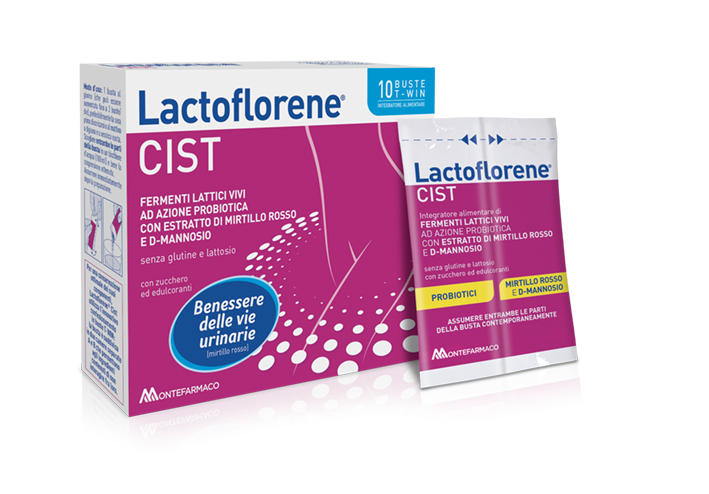 Format
T-WIN sachet, available in package of 10 or 20 sachets
For optimal preservation of its components, Lactoflorene® Cist uses packaging in T-WIN sachet internally divided into two separate chambers A and B which allow the ingredients not to interact with each other.
Lactoflorene® Cist
Dietary supplement based on live lactic acid bacteria with probiotic action, cranberry extract and D-mannose.
Indications for use
Lactoflorene® Cist is a dietary supplement with probiotics and cranberry extract that contributes to the well-being of the urinary tract.
Description of the product
Lactoflorene® Cist is a dietary supplement with live lactic acid bacteria with a probiotic action that contributes to the balance of intestinal bacterial flora enriched with cranberry and D-mannose from birch, useful for normal urinary tract function.
Lactic acid bacteria with their probiotic action help balancing the intestinal flora, sometimes compressed.
Cranberry, rich in a particular variety of polyphenols, type A proanthocyanidins (PACs), contributes to the functionality of the urinary tract and to the drainage of body fluids. This is a simple sugar extracted from Birch which, once ingested, shows little absorption. In the intestinal area, it interacts with the bacteria responsible for infections, including Escherichia coli, reducing its passage into the bladder or preventing its adhesion to the walls in case of their transmigration. The bacteria responsible for the infections, thanks to this action, are eliminated through the urine.
Gluten and lactose free with sweetener.

Insights
Would you like more information on Lactoflorene® Cist?
VISIT THE SITE
MAIN INGREDIENTS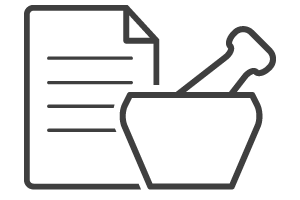 Chamber A: Maltodextrin; sweetener: sorbitol; Lactobacillus paracasei LC11 (LMG P 30020); anti-caking agent: silicon dioxide.
Chamber B: D-mannose from birch bark; maltodextrin; sweeteners: sorbitol, sucralose; dehydrated concentrated cranberry juice; acidity regulator: citric acid; cranberry e.g. (Vaccinium macrocarpon Aiton, fructus); aromas; anti-caking agent: silicon dioxide; die: beetroot red.

Other Lactoflorene Products