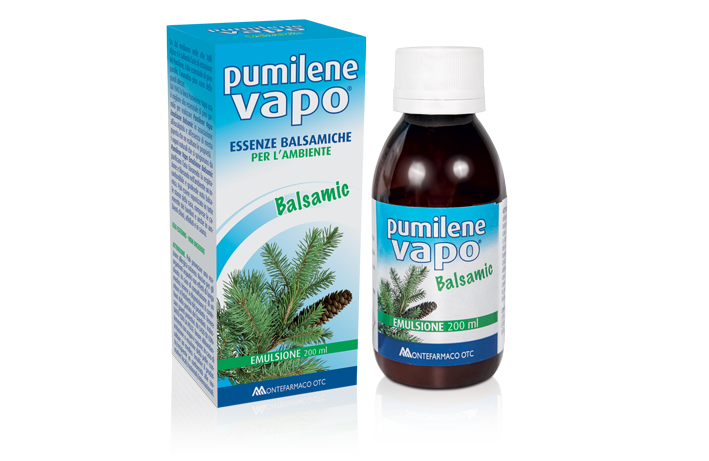 Balsamic format

Concentrated 40 ml bottle
100 ml and 200 ml emulsion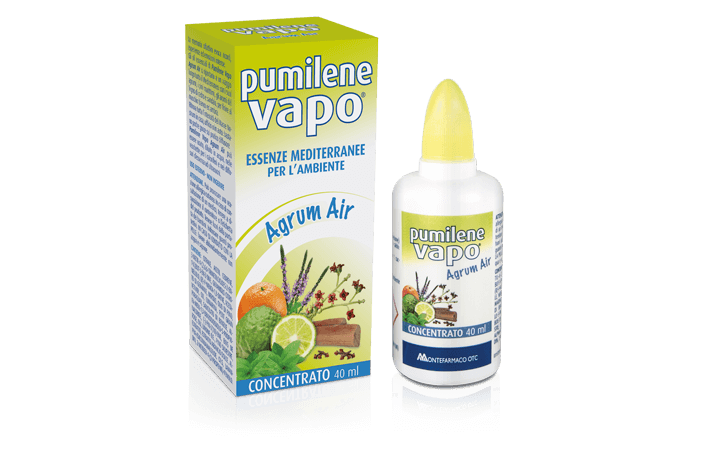 Agrum Air Format

Concentrated 40 ml bottle
Pumilene® Vapo Room Essences
Indications for use
Pumilene® Vapo Essences for the room is a line of fragrances created to purify the air and help breathing.
Description of the product
Pumilio pine is the essential oil that characterizes the entire Pumilene® Vapo Balsamic line.
Pumilio pine has a strong, balsamic and resinous fragrance; associated with the essential oils of peppermint and eucalyptus it creates Pumilene® Vapo Balsamic characterized by an unmistakable balsamic fragrance.
The steam released into the environment purifies the air, helping breathing especially in the winter seasons when the respiratory tract is more prone to cold and virus attacks and we are more vulnerable to colds and coughs.
Pumilene® Vapo Balsamic was created to make the rooms in which we live healthier and balsamic, with a wide range of products to choose based on your preferences.
Pumilene® Vapo Agrum Air is a mix of essences that takes us on a sensorial journey through the characteristic scents of our Mediterranean: we find the essence of citrus fruits, maritime pines, the aromas of cedar and sandalwood, which embraces the warmth of white musk and amber.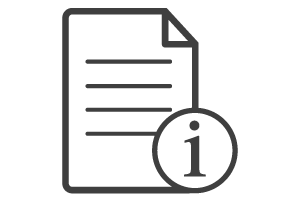 Concentrated references:
– Pour a few drops of concentrated essence on the diffuser (contained in the package) and in the ultrasonic or hot diffusers
– in the radiator trays: 1 teaspoon.
Emulsion references:
– in the hot humidifier: 2 teaspoons in the tray
– in radiator trays: 2 teaspoons
For inhalations: 3 teaspoons in a basin of hot water