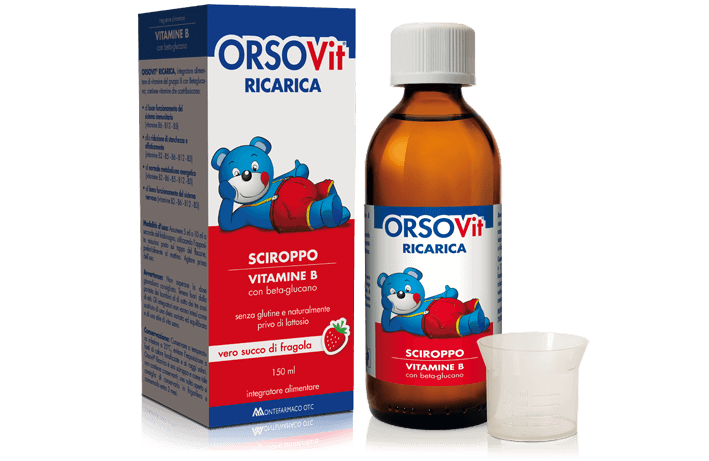 Format
Syrup, 150 ml bottle with Child-Proof cap (= to open the package, simultaneously press and turn the cap counter-clockwise) and measuring cup.
Orsovit® Recharge Syrup
Dietary supplement with B Vitamins with Beta-glucan.
Indications for use
Orsovit® Recharg is a dietary supplement for children with B Vitamins and Beta-glucan; the vitamins help the immune system function properly (Vitamins B6 – B12 – B5); reduce tiredness and fatigue (Vitamins B2 – B5 – B6 – B12 – B3); normalize energy metabolism (Vitamins B2 – B6 – B5 – B12 – B3); the nervous system function properly (Vitamins B2 – B6 – B12 – B3) and Beta-glucan Betox-93 is a highly pure and bioavailable form of beta-glucan.
Description of the product
Thanks to its synergic combination of Beta-glucan and B Vitamins, Orsovit® Recharge syrup provides an adequate supplementation, even during periods of increased metabolic/immune stress. With real strawberry juice and cane sugar.
Gluten-free and naturally lactose-free.
Insights
Would you like more information on Orsovit® Recharge?
VISIT THE SITE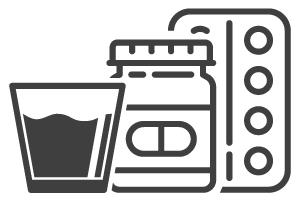 Take 5 ml or 10 ml of Orsovit
®
Recharge as needed,
preferably in the morning on an empty stomach for better beta-glucan absorption.
Shake before use.