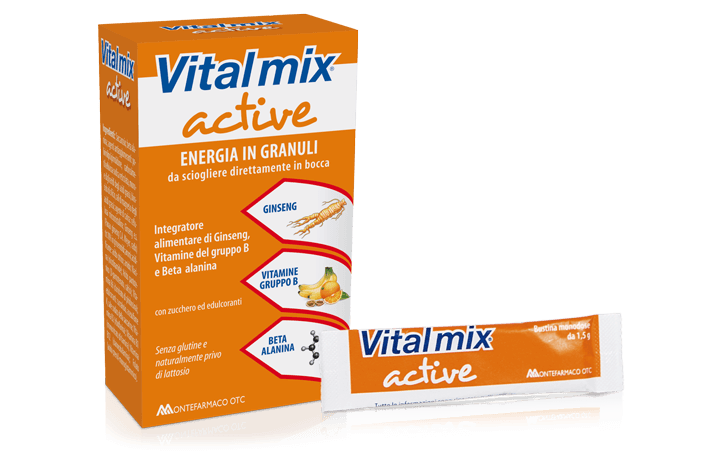 References
---
14 sachets containing orange-flavoured orodispersible granules
Vitalmix Active
Dietary supplement with Ginseng, B Vitamins and Beta-alanine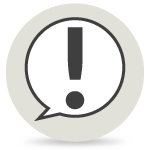 Indications for use
---
---
---
Vitalmix Active is recommended in all cases where energy needs to be readily available (physical activity, heavy work load, periods of intense stress).
Description of the product
---
---
---
Vitalmix Active is a dietary supplement formulated into practical and pleasant tasting orodispersible granules that dissolve in the mouth.
Vitalmix Active contains Ginseng which has an adaptogenic fatigue-fighting property; 100% of the daily dose (DRV) of B vitamins that contribute to normal energy metabolism and to a reduction of tiredness and fatigue. Vitamin B1 and Folic Acid contribute to normal psychological function; Beta-Alanine – the amino acid precursor of Carnosine, is a substance found in the muscles.
Contains sugar and sweeteners.
---
INGREDIENTI PRINCIPALI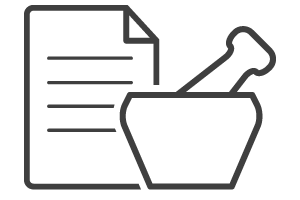 Niacin, Vitamins B1, B2, B6 and B12, Pantothenic Acid, Folic Acid, Ginseng and Beta-Alanine.
DOSI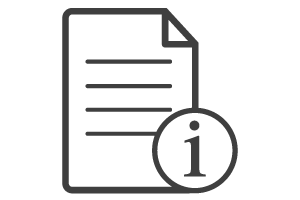 Contenuti Medi

Dosi per 2  Bustine die

VNR*/dose 2 Bustine die
Niacin
16 mg
100%
Vitamin B2
1,4 mg
 100%
Vitamin B6
1,4 mg
100%
Pantothenic Acid
6 mg
 100%
Vitamin B12
2,5 μg
 100%
Vitamin B1
1,1 mg
 100%
Folic Acid
200 μg
 100%
Ginseng e.s.
200 mg
Beta-Alanine
400 mg

VNR*: Valori Nutritivi di Riferimento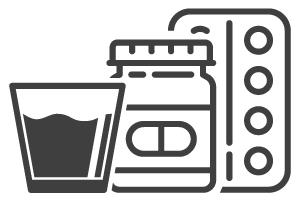 1 or 2 sachets a day dissolved directly in the mouth.
The orange flavour orodispersible formula makes it ideal for any time of day.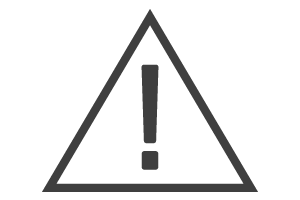 Keep out of the reach of children under 3 years of age. Do not exceed the recommended daily dose. Dietary supplements are not intended to replace a balanced and varied diet and a healthy lifestyle.
Store at a temperature below 25°C; avoid exposure to localized heat sources, sunlight and contact with water.